We know ICF.
After decades of building, we now specialize in Insulated Concrete Form (ICF) construction, building structures exceeding expectations. Traditional construction cannot match the strength, durability and energy efficiency of ICF built structures. We aim to build homes supplying pride and pleasure to owner and builder.
What is ICF?
ICF represents the strongest, most durable and energy efficient basic building block available today.  It stands for Insulated Concrete Form and is composed of two layers of expanded polystyrene (EPS) foam connected by either steel or polypropylene ties.  The blocks are shaped, stacked, steel reinforced, braced, and then poured with an ICF concrete mix.  The foam and ties stay in place to provide permanent insulation and connection points for the interior and exterior finishes of your choice.
ICF construction provides unmatched thermal efficiency, storm security, earthquake resistance, comfort, and architectural design.
Nationwide, the cost of ICF construction is estimated at 4-10% more than typical 2x4 stick frame construction.  However, we believe that number to be excessive and completely negligible by incorporating smarter design
features.  Should an increase in mortgage payment occur, that amount is offset by the utility savings, primarily heating and cooling.  According to a Portland Cement Association study of 58 homes across Canada and the U.S. (half ICF and half conventionally framed) ICF homes consumed 44% less energy to heat the homes
and 32% less energy to cool the homes.  Assuming a $250 per month average utility cost, an ICF home conservatively saves $95 per month.  Applied to a 30 year loan at 5%, that gives roughly $17,700 in additional buying power, or nearly 9% of the cost of a $200,000 home.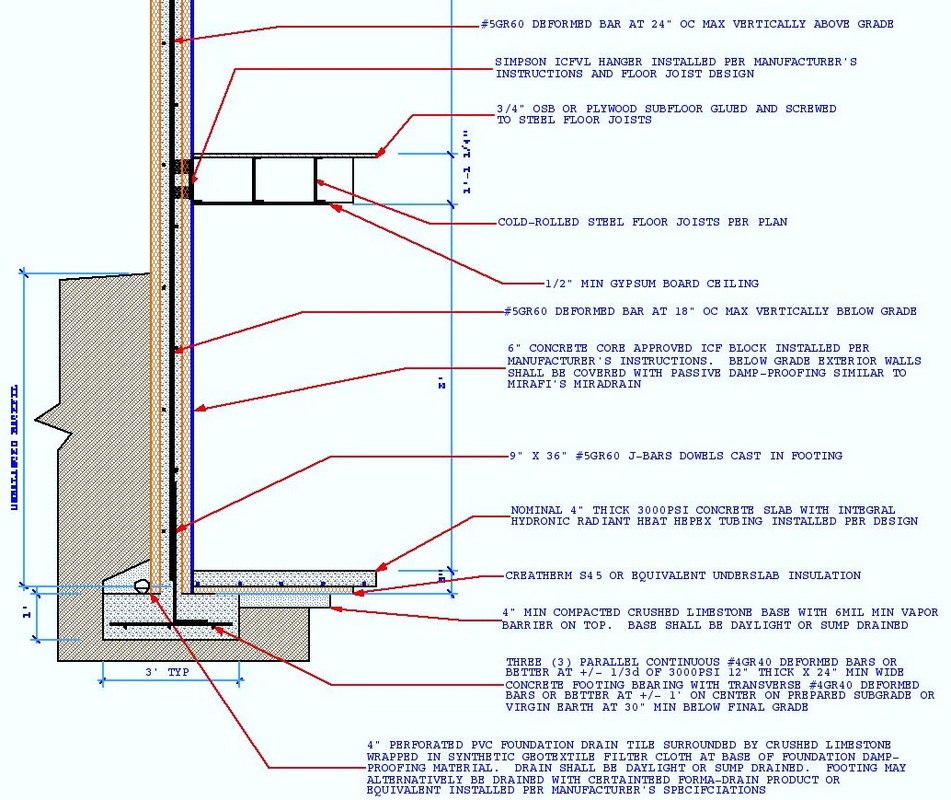 ICF construction benefits include:
***Greater Comfort and much Lower Energy Bills
***Peace and Quiet
***Solid and Lasting Security
***Less Repairs and Maintenance
***Healthier Home and Environment
***Virtually Limitless Design Options
***Internationally Proven and Code Accepted
***Cost Competitive with on-site framed construction
***Hydronic Radiant In-Floor Heat
***Decorative Concrete
***Steel Roofing
***Spray Urethane Foam Insulation
***Steel Floor Framing
***Suspended Concrete Slabs
***Exterior Insulation Finish System (EIFS)
***Geo-Thermal Heating and Cooling